WoodenMasks of Odisha: The Old World Appeal and Modern World Glamour
WoodenMasks of Odisha: The Old World Charm and Modern World Glamour
(Wooden mask of Lord Ganesh in the wall of my home entrance….I step out of my home only after paying obeisance. Today's trend…Lord Ganesh is being increasingly used as a decorative motif )
In Odisha one can track down a wide variety of masks being prepared in different mediums like wood, solapith, papier-mâché, cow dung(waste) and so on. Being light in weight and in view of simple accessibility, paper or paper pulp is the most ideal mode for creating masks, but considering the longevity, woodenMasks are also preferred.Here I have focussed on wooden masks of Odisha.
There were days when a lot of artists in dramas, lyric dramas, Folk Theatres,Jatra, leela, suaang, etc. based on some mythology used to put masks on their faces for playing different characters .Masks have been made in our state Odisha through different times during the rule of numerous rulers. Masks and masking rehearses are an uncommon sociocultural phenomenon. Constructing masks is an exceptionally huge method of innovative articulation in all societies.
The wooden masks are usually made of lightweight woods and then painted with bright colours.These masks are utilised by the wandering entertainers who stage street plays based on the great epics of our country.
Those folk theatres were  taking the audience on a smooth ride emotionally to those mythological plots. But the facial expressions were having no value because it was remaining covered up.  Those most sought-after wooden masks for different characters were being made by the rural artisans/ carpenters and those carpenters were getting enough work assignments to sustain their livelihoods. But nowadays, with the change of time, the trend has changed. Those wooden masks have become home decoration items and are being sold in different craft emporiums . In the recent past,on the International Museum Day( May 18), the Odisha State Museum has inaugurated another gallery specifically devoted to Odishan masks .The wooden painted masks portraying Ram Ravan, Angad, Rakshyas, Hanuman, bull head, horse head, Ganesh, etc have been set up on display.As numerous as 40 masks of different shapes, sizes and articulations are shown in the exhibition.
Odisha State Museum Mask Gallery
Mask of Srikrishna( Blue colour is used for Srikrishna)
pc: Pinterest
Hanuman
pc: Gallery OIC
pc: Rayvil
Mask of Ramchandra( green colour is used for Ram )
pc: Twitter
Gajamukha,' an elephant faced mask from Odisha( Gaja and Mukha literally mean elephant and face/mask respectively)
pc: free press journal
It was just a couple of months back while on my way to Barkul(Chilika ), I made a deliberate stopover in a handicraft workshop located alongside Khurda Bolangir 57 no. national highway near Baghamari. Baghamari near Khurda and Ichapur near Kendrapara are prominent centers of the making of wooden masks.There are several other places particularly in the Puri district where there lies a large concentration of these wooden mask artisans.  There I was introduced to 5 different wooden mask artisans who were busy in making a variety of masks.I saw over there a series of masks on different characters like Hanuman , Ganesh, Jatayu , Ramachandra, a variety of demonic figures,  different animals , birds et cetera.  After having a glance at those beautifully crafted masks, I couldn't believe my eyes. I was just wondering …can such art work be made possible on the surface of a piece of wood!!!! The soul of art is getting transmitted to inanimate wooden bodies by the touch of the artist's magical hand.
I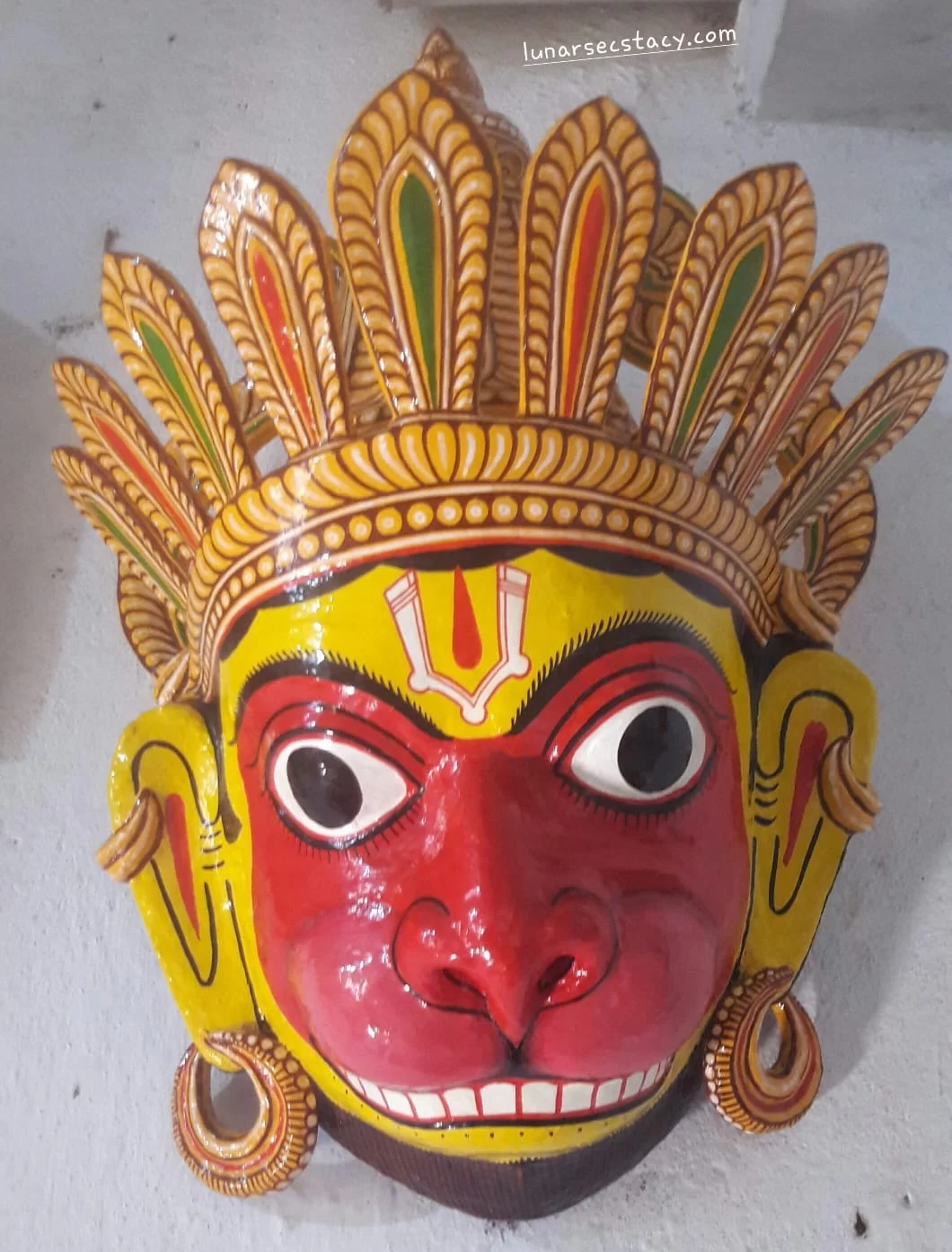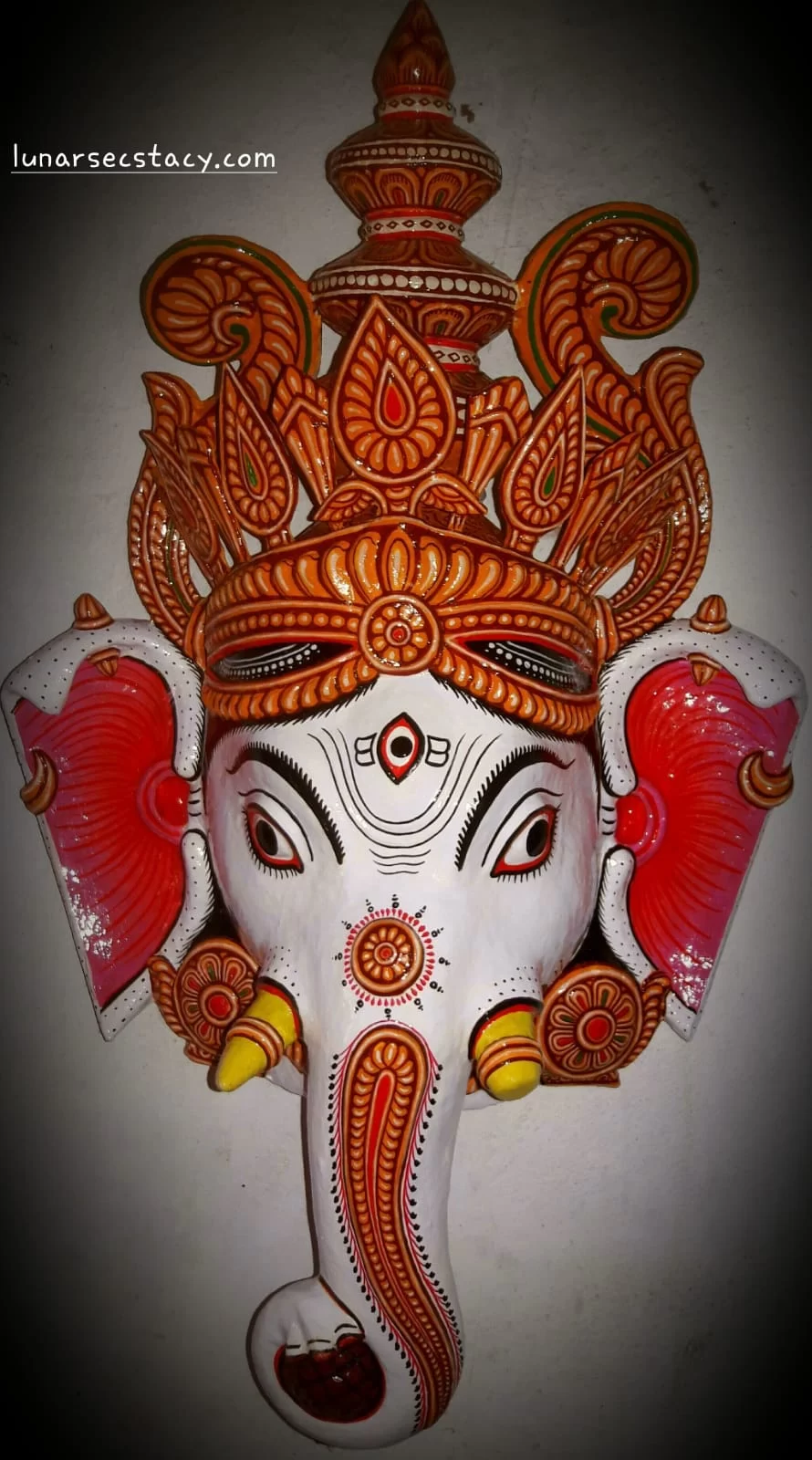 I felt as if  each mask wanted to speak something about the character it portrays. It felt as if  there lies a story behind each mask. Just like stone crafts , wood engraving works also stand as an ancient craft skill of the people of our state, Odisha.Those beautifully crafted masks also generate a unique identity for the artists .
Making of Masks
Raw timber is first collected from certain trees, such as Fasi, simuli, paladhua, and Devdaru trees, to make a variety of wooden facemasks.  Before the facemask  is made, first a picture of the face is to be drawn on the surface of that wood.  Raw wood is then carved in Nihan.  The facemask is kept for drying in the shade for a few days.  Then the tamarind seed( brought into a dust form)is mixed with glue so as to make a kind of paste which is then  rubbed on its surface.  Wet clothes are kept on top of it for a few days.  The mask surface  is then rubbed with lime powder paste so as to make the surface perfectly ready to be painted by traditional colours ….. Colours are acquired from regular assets like minerals and vegetables and to guarantee their life span vegetable paste( which works as a glue) is additionally added. White colour is ready from conch shell powder, Red from red oxide stone, Black from Soot/lantern or lamp black, Blue and Violet from Indigo, Yellow from Haritala (a sort of stone) and Green from leaves.But nowadays, artisans are getting increasingly dependent on artificial colours because of ready availability.
Nowadays these masks are being sold in different handicraft emporiums whose price varies from ₹300- ₹2000 depending on the kind of wood, it's size and delicacies & intricacies of the art involved. These are preferably being used as decorative wall hanging items nowadays.
Conclusion:
In the wake of the Covid-19 pandemic, cloth / surgical masks have turned into a need. Be that as it may, but the infection has hit our cultural wooden mask making artisans and artists as well of the state, as a matter of fact the government has put a ban on cultural gatherings in different fairs & festivals.
Dr. Manoj Mishra
lunarsecstasy@gmail.com