Bhitarkanika : Largest WhiteCrocodile of World
Bhitarkanika Mangrove Ecosystem & World's Largest White Crocodile
It was just a couple of weeks back , I planned for a sudden trip to Bhitarkanika. Though I had already visited the place a couple of times earlier, I always feel an intense desire to go there once more because of its enormous touristic appeal as the second largest estuarine mangrove ecosystem in India.
Again , the tour was made possible because of the young entrepreneur and hotelier of our state , Alok Bhai . He offered me to stay in his most sought after property ' Sand Pebbles Bhitarkanika Jungle Resorts ' and use his resources to explore the place. The cosy & comfortable travel, luxury accommodation, sumptuous foods , exclusive boat service etc…. being provided by 'Sand Pebbles Bhitarkanika Jungle Resorts' and not to forget the very much attentive, caring and cordial staffs……all taken together certifies an alluring trip.
Sand Pebbles Bhitarkanika Jungle Resorts: The host of our comfortable stay
THE CONCEPT OF ALBINO OR WHITE CROCODILE
Bhitarkanika is commonly referred as the home of world's largest white crocodile. The first albino crocodile ( 🐊 Gori) was spotted in the waters of Bhitarkanika for the first time in 1975. Later another albino crocodile named ' Malli ' has been added to the list.According to the most recent reports (2021), 16 white crocodiles have been seen in the wild in Bhitarkanika . Hypomelanism is often cited as one of the prominent reasons what for albino crocodiles do exist.It is caused because of melanin (dim brown to dark shade) inadequacy. According to crocodile specialists, hypomelanism is either hereditarily acquired or is caused as a result of overheating of the eggs during the hatching process .
MINI AMAZON BOUNDED BY BRAHMANI ,BAITARANI & BAY OF BENGAL
Bhitarkanika is one of the most mind-blowing ecotourism destinations in Odisha , commonly referred to as the MINI AMAZON. Bhitarkanika National Park offers you a perfect feeling alongside a chance to watch fascinating types of mangrove plants and creatures. Bhitarkanika is an estuarine mangrove forest encompassed by waterways like Brahmani and Baitarani on one side and the Bay of Bengal on another side. It is such a place where one finds the most luxuriant mangrove species in their most ideal kind of sorrounding. You will find millions of the pneumatophores, better known as breathing roots, stand like sentries of the land.
ETYMOLOGY OF MANGROVE
Mangrove forest is also otherwise called 'Tidal forest' . Because it can survive in tidal regions ( i.e. both in brackish water and fresh water ) . When we analyse the word 'Mangrove'…. two different words come to the picture. One is derived from the Portuguese word mangue which means "tree" and the English word grove which means trees and shrubs . These plants are found in swampy and muddy areas which are frequently inundated by tidal waves.
2nd LARGEST MANGROVE ECOSYSTEM OF INDIA
In the year 2002, Bhitarkanika was declared as a Ramsar site. Bhitarkanika has one of the largest populations of endangered estuarine crocodiles in India and is globally unique because around 10% of the adults ( weight goes up to 1000 kgs) exceed 6 m length. The largest crocodile spotted till date on earth was a colossal specimen of estuarine crocodile of 23 feet size in Bhitarkanika. It was spotted in the year 2006 and has been duly registered in the Guinness Book of World Records. Nearly 1768 estuarine crocodiles inhabit the rivers and creeks as per the 2021 crocodile census undertaken by the forest department of the government of Odisha . Bhitarkanika National Park in Odisha is blessed with a vast mangrove ecosystem, which spreads over an area of 672 sq.km . That makes it the second largest in India next to Sunderban. It remains closed for the general public and tourists from May 1 to July 31 for nesting and breeding activities of Estuarine crocodiles.
HOW TO REACH
The best route from Bhubaneswar ( State capital of Odisha) is
Bhubaneswar – Cuttack – Salepur – Kendrapara -Pattamundai-Rajnagar- Khola/Gupti. There lies a bifurcation at Rajnagar.One way towards Khola and another towards Gupti. There lies boating jetty both at Khola and Gupti to navigate inside the numerous meandering creeks which all taken together refer to Bhitarkanika.
By Road :
Bhubaneswar – Khola / Gupti (160 km)
Cuttack – Khola / Gupti (140 km)
Bhadrak -Chandabali (60 km).One can get inside Bhitarkanika from Chandbali too through boat.
Bhadrak – Rajnagar (80 km)
Nearest Railway Station :
Bhadrak – 60 km to Chandabali
Bhadrak – 80 Km to Rajnagar. Nearest Airport :
Bhubaneswar – 160 km to Khola / Gupti

On the way back to Bhubaneswar, one may think of visiting L-U-R circuit ( Lalitgiri -Udaygiri- Ratnagiri, the famous Buddhist circuit) enroute Chandikhol.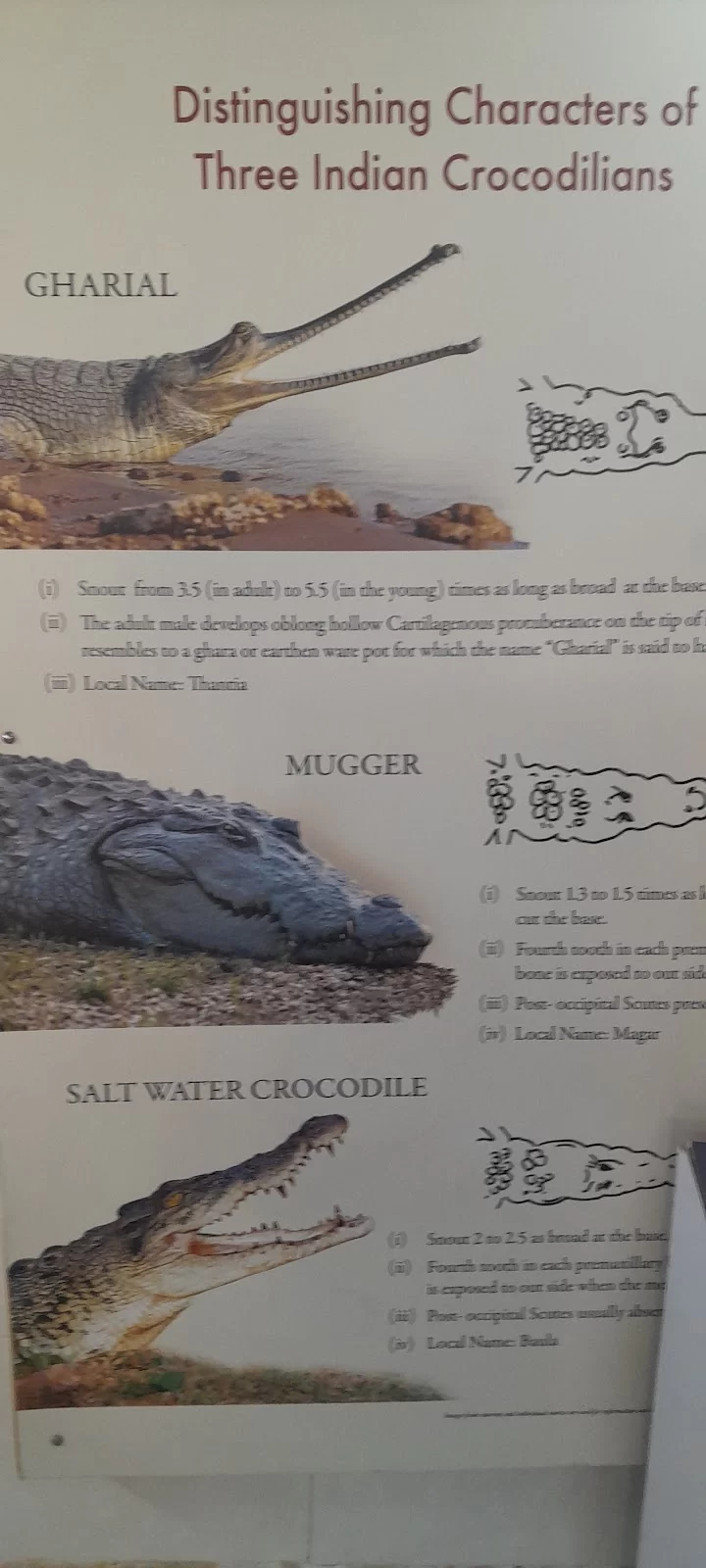 The 23 ft long crocodile skeleton is kept for public view in the museum at Dangamal
The white estuarine crocodile " Gori" kept in the premise of Dangamal ( Bhitarkanika National Park) .
INDISPENSABILITY OF MANGROVE
There are around 71 species of mangrove plants seen in the Bhitarkanika ecosystem . Mangroves, coral reefs and seagrass beds function as a solitary framework that protects coastal zones . Mangroves give fundamental living space to a huge number of species. They additionally settle coastlines, retarding the soil erosion . The biggest plus point of mangroves is that it protects the coastal people during cyclones and it has been seen during the super cyclone in the year 1999 in Odisha coast.
Dr. Manoj Mishra , lunarsecstasy@gmail.com