Trinity Goddess ( or Three Most Important Female Deities) of Hinduism
Trinity Goddess ( or Tridevi) of Hinduism In Different Archaeological Sites.
***********************************************
Lakshmi is the goddess of prosperity and wealth who is worshiped in the homes of almost every Hindu. She is the consort of Lord Vishnu, one of the most revered Trinity deities of Hinduism (Brahma, Vishnu and Maheshwar). Trinity Goddess are also known as Tridevi.Looking for the literal meaning of the word Lakshmi, it appears that Lakshmi is the goddess who guides one's goal( Lakshya). Lakshmi, Saraswati and Parbati are also known as the Trinity Goddess. It is believed that "Lakshmi Thakurani" is worshiped only by Hindus in different parts of India, but that proves to be wrong, when we look at the stone artefacts of "Lakshmi Thakurani" found in different nations of South Asia.Maa Lakshmi Thakurani ( Goddess) not confined in India only.

Lakshmi's four hands symbolize the four goals of Hindu life which are religion, work, money and salvation. Lakshmi's name is also mentioned in the Rig Veda and Atharva Veda. Her idols are found in Hindu temples throughout South Asia. She is depicted on coins of ancient India. Diwali, Navratri are dedicated to her.
If you would like to know more about the omnipresent Maa Lakshmi (sculptures have already been found in different South and southeast Asian countries) , you may go through the following article ( link given).
https://bit.ly/3oNADEo
Here Maa Lakshmi in different sarees
present on the top of the architrave of the Singhadwar (Lion gate or Eastern gateway) of Shree Jagannath temple,Puri
Lakshmi present in Anant cave, khandagiri
( Ist century BC)
Lakshmi present in Srabanbelagola Karnataka ( present in Jain tradition)
Lakshmi in AngkerVat temple Combodia
Lakshmi present in Sanchi Stupa, North gate, Madhya Pradesh,India
The Goddess Saraswati is always displayed in a white sari seated on a white lotus addressing light, information and truth.She is displayed as having four arms representing mana, buddhi, chitta and ahamkara, that is brain, intellect,creativity and self igo or self image. The hands hold a book or pustaka implying learning or the vedas, a rosary or mala meaning contemplation/ meditation, a sacred water pot ( Kamandalu) connoting immaculateness and a veena, a stringed musical instrument. A swan or hamsa is her vehicle and is seen sitting close to her feet. The hamsa is a sacred bird who can isolate milk and water. This addresses the capacity to separate among great and detestable, genuine from ingenuine . A peacock is also sometimes displayed with Saraswati. The peacock or mayura addresses magnificence.
Image I: Saraswati, sculpture, 10th century, Walters Art Museum, USA.
Image II: Saraswati, Hoysala sculpture, 13th century,Chennakesava temple , Somanathapura, Karnataka
Image III: Saraswati , Brihadeshwara temple, Gangaikondacholapuram, Tamil Nadu
Image IV: Saraswati with Lord Brahma, Mallikarjuna Temple, 13th century,Basaralu, Mandya District,Karnataka.Maa Saraswati is considered as the consort of Lord Brahma.
Image V: Painting of Saraswati by Raja Ravi Verma , 19th century
Parvati is the consort of the Hindu god Shiva. Parvati is often referred as the Goddess of fertility, love and devotion. The very name Parvati has been derived from the Sanskrit word' Parvat' , which means mountain. Parvati is the girl of the mountain lord Himavan. That's why Parvati is otherwise called Haimavathi . She is the rebirth of Sati, the primary consort of Shiva who immolated herself during a yajna (fire-penance). Goddess Parvati is referred to under different signs as Uma, Sati, Durga, and Kali and so forth. The heavenly couple, along with their two sons — Kartikeya and the elephant-headed Ganesha — are said to harp on Mount Kailasa in the Himalayas.Shiva and Parvati together are frequently portrayed as Ardhanarishvara, that is the composite male-female figure of the Hindu god Shiva along with his associate Parvati. We find the mention of Goddess Parvati in different puranas and in Ramayana & Mahabharata too. During the rule of king Harshavardhan, coins were issued having the mention of Goddess Parvati.
Goddess Parvati, flanked on both sides by Her son's Ganesh and Kartikeya.
Presently being displayed in British museum, image source: Pinterest
Goddess Parvati standing on Nandi, the carrier of Lord Shiva. Ganesh and Kartikeya are there on both sides.
Java, Indonesia.i.s: Wikimedia.org.
Lord Shiva and Parvati traveling on the back of Nandi.Ellora cave no: 29
Maharashtra, India.i.s: wikimedia.org
Goddess Parvati
i.s: Pinterest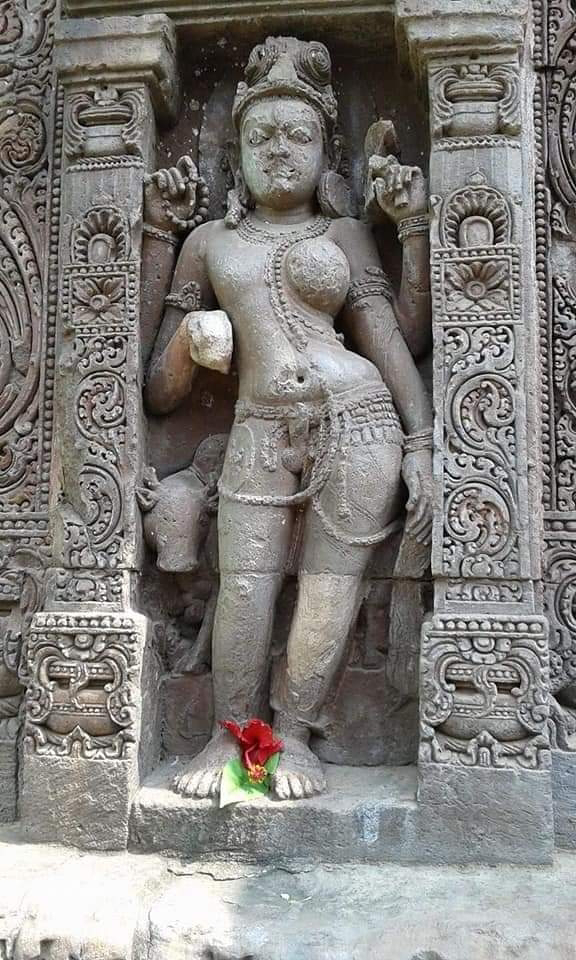 Here I am giving a picture of an unique masterpiece of 8th c AD, Ardhanariswar( Half male and Half female God is a form of the Hindu deity Shiva combined with his consort Parvati) in the famous Vaital temple of old Bhubaneswar.. The presiding deity of Vaital temple is Chamunda. It is a Shakti shrine having Khakhara type Kalinga temple architecture.
It is also locally known as Tini-mundia deula due to the three spires on top of it, a very distinct and unusual feature. The three spires are believed to represent the three powers of the goddess Chamunda – Mahasaraswati, Mahalakshmi and Mahakali.
Staying within the limiting parameters of a blog, I couldn't describe several other details of the feminine version of our Tridev (Brahma, Vishnu and Maheshwar).
Dr. Manoj Mishra
lunarsecstasy@gmail.com